In Qeshm Island's southeast you'll find this almost vertical limestone cliff pockmarked with caves. They are said to have sheltered local villagers seeking refuge from pirates and bandits raiding the island in the past centuries.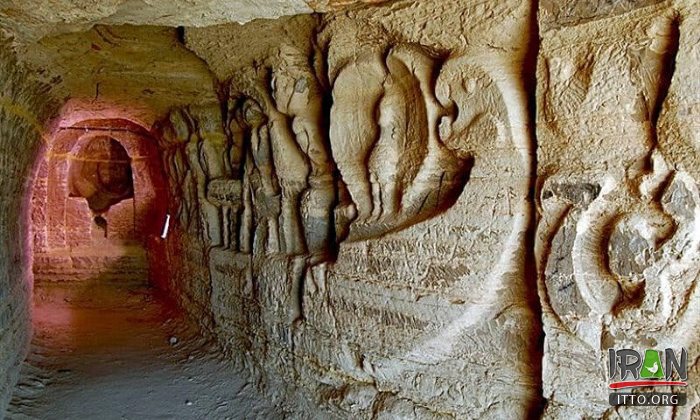 The ancient village of Kharbas located on the fork road of Qeshm - Dargahan in Qeshm Island. Nestling in the heights of this village are historical evidences revealing architectural effects in the rocks. Some believe this to be the place of worship of the Mitraism cult or the Anahita Temple (deity of water).

Overlooking the Persian Gulf, the Khorbas Cave on Southern Iranian Island of Qeshm is partly natural, partly man-made. Khorbas cave with its odd and mysterious holes is one of the attractions of Qeshm island that remains from the Medes era.

The cave existed originally naturally on the side of a hill, but was utilized as both human dwellings and a fort by Qeshm natives, making the most use of the location convenient for the defense against external enemies some 500 years ago, Although the cave contributed to the early finding of enemies such as Portuguese fleets, eventually it was abandoned.

The height of these vertical limestone cliffs is between 20 and 30 meters. The entrance to the Khorbas cave consists of nine apertures. There is a hall behind these apertures and two small niches in this hall. Within the cave, there are halls, corridors, rooms, springs, and holes joined to each other. At the bottom of the door's cave, there is a pond that used to store rainwater and it is full of water in the rainy days.

In modern era a mosque was constructed and the hill is thronged with visitors to both the cave and the mosque, however in the cave, cool wind and panoramic view are just as it used to be.
Fullscreen Map