Zanjan museum of anthropology. A laundry house which provided security and comfort for the women.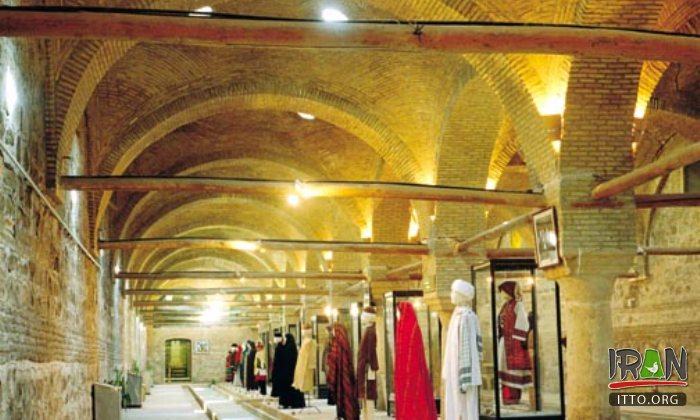 This museum is located in the historical site of the beautiful edifice of the Rakhtshooy Khaneh in the renowned locality of Baba Jamal Charoqi of Zanjan. This is a remnants of the Qajar era and the museum displays fire exhibits related to the older times. Clothes or apparel that men and women wore, including handicrafts.

It is a traditional Qajar era laundry house and today it is Zanjan's Museum of Anthropology. Historical building of Rakhtshooy Khaneh (which means washhouse) lies at the historical texture of the Zanjan city and was built nearly 20th century. This place was used for washing clothes by women around the city. It was constructed by two brothers, Mashad Akbar and Mashadi Esmail. At the present, this historic building is being used as Zanjan's anthropological museum.

This construction can be divided into two parts: The first can be said to be the 'care-taker' and management, and then the wash room area. The former relates to the court yard and residential quarters, which encompasses two chambers along with an entrance. The latter portion is the wash room area, that again can be categorized into different sections-such as the water reservoir the ceiling of which is beautifully architectured.

Another section is the main or original wash room, constructed from slabs of stone and mortar. Internally this building boast of unique architectural techniques. It can be noted that clothes can be washed here in four phases - beginning at the end of the water canal and ending on the other side. Beside foot baths can be observed, as well as a sewage system which had been planned under the foot baths, hence delivering the sewage water to the sewage system of the city. At present this public wash-house and historical relic has been renovated into a museum, which is on record in Iran.
Fullscreen Map